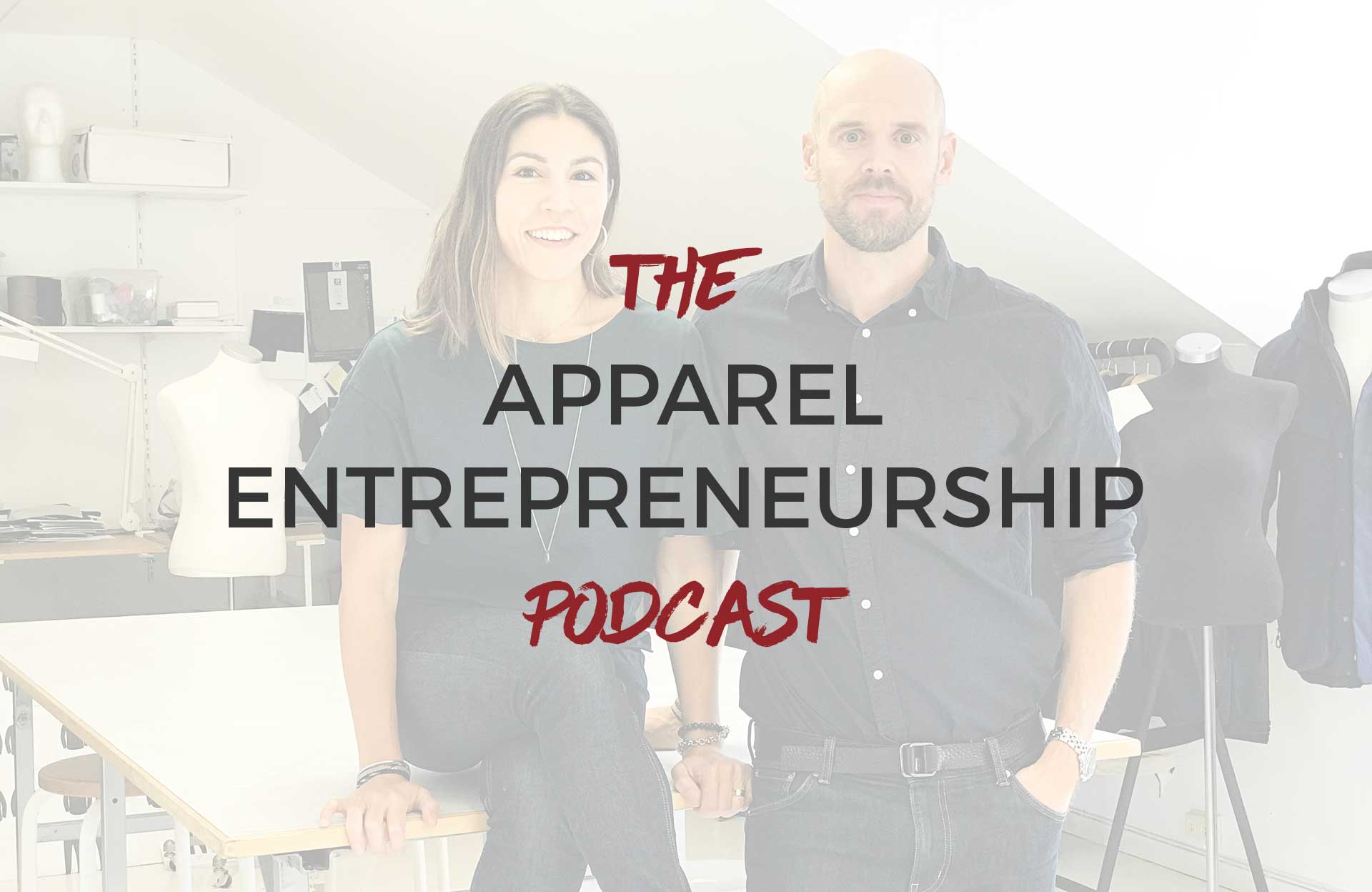 AEP006 – HOW TO START A CLOTHING BRAND
Listen to The Apparel Entrepreneurship Podcast
Today we are going to walk you through the complete Guide To Starting A Successful Clothing Brand.
Are you thinking about starting your own brand?
Are you already running an apparel brand, but want to revisit the steps involved?
Are you already running a business in a different field, and want to expand into clothing?
After this podcast episode, you will know exactly what it takes to launch and all the steps required to get going. 
The clothing industry is a 3 trillion dollars industry, and over one trillion garments are sold worldwide every year. It is a huge market and a huge opportunity and it is understandable why so many entrepreneurs want to tap into this industry and why companies want to expand into apparel. All brands want to increase their profit. But the competition is fierce. There are hundreds of thousands of brands out there, so you want to do it right, you want to stand out and offer something unique in order to get noticed.
So if you want to learn how to start a clothing brand, then this podcast episode is for you. We'll go over all the steps involved in starting and running a clothing brand and in what order you need to do everything. You will have a complete understanding of what it takes and what you need to do. 
These are the topics we are covering in this episode:
Entrepreneurship
How to get started
Understanding your market
Make a plan for how to achieve success
Branding
Financing your clothing business
Setting up your dream team
Defining your clothing collection
Clothing design
Finding fabrics & manufacturers
How will you price your garments?
Creating garment patterns and prototypesPlan the bulk production
Ship your garments
Make sure your clothing brand stands out in the crowd
The customer is the hero
Join the Free Facebook Group: Apparel Entrepreneurship Friends
The Member Zone; Supplier & manufacturer databases, templates, community, calculators, etc: Join the waitlist here
Graphic designers: 99designs*
Shipping software: Shipstation*
Crowdfunding: Kickstarter blog post
Who do you need on your team? Blog post
Facebook page: facebook.com/apparelentrepreneurship
LinkedIn: linkedin.com/company/apparel-entrepreneurship
Instagram: instagram.com/apparelentrepreneurship
Twitter: twitter.com/apparel_ent
*This is an affiliate link, which means that if you choose to make a purchase, we will earn a commission. This commission comes at no additional cost to you. Please understand that we recommend them because they are helpful and useful, not because of the small commissions we make if you decide to buy something. Please do not spend any money on these products unless you feel you need them or that they will help you achieve your goals.