APPAREL ENTREPRENEURSHIP
How to Start & Run a Successful Apparel Brand
Learn about Apparel Entrepreneurship from idea to market launch, and beyond.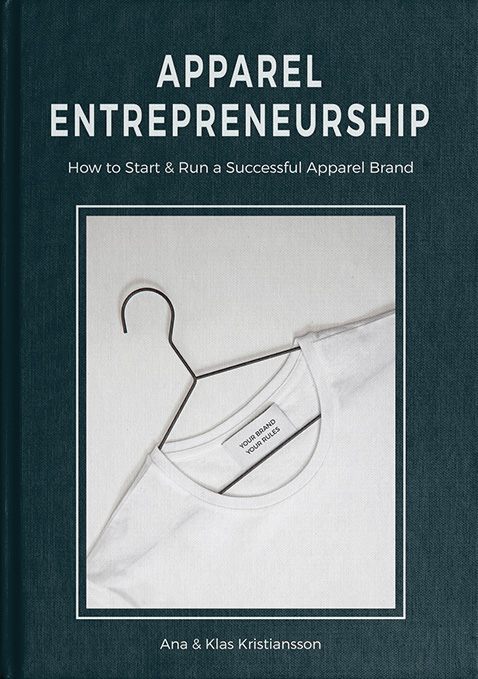 The Apparel Entrepreneurship E-Book (PDF)
Start-Up Checklist
Business Plan Template
Customer Profile Template
Online Store Checklist
Budget Spreadsheet
Bootstrap List
Costing Sheet
Product Price Matrix
The Apparel Entrepreneurship E-Book (PDF)
Start-Up Checklist
Business Plan Template
Customer Profile Template
Online Store Checklist
Budget Spreadsheet
Bootstrap List
Costing Sheet
Product Price Matrix
Terms Of Agreement
Bill Of Materials
How To Brief A Designer Cheat Sheet
Project Design Brief
Product Design Brief
Style Number Guide
Manufacturing Checklist
Commenting Cheat Sheet
Product Range Plan
Line Sheet Template
Order Form

NEW EDITION!
The 2nd edition of Apparel Entrepreneurship: How to Start & Run a Successful Apparel Brand is expanded with a whole new section about:
Sustainability:
– How To Run A Sustainable Apparel Brand
– Sustainable Marketing and Sales
– Sustainable Product Development
– Sustainability Certifications & Standards
These chapters are also newly added:
– Market levels in the apparel industry.
– Components of a thriving clothing company.
– Customer profiles & how to define your customer.
– How to brief a designer.
– Fabric descriptions.
– Naming your apparel brand.
– Ten steps to master cash flow.
– Beware of hidden costs.
– How to protect your brand & products.
– Apparel glossary.
– Standard fabric consumption.
+ improvements and additions to existing chapters
About Apparel Entrepreneurship
The Complete Guide To Running An Apparel Brand, from idea to market launch, and beyond.
Apparel Entrepreneurship is an inspirational and educational book that will guide you in the achievement of starting and running your apparel brand. It provides you the education and experience to do it, together with hands-on tools and steps to action. It gives you the information and tells you HOW to implement it in your business.
It will help you if you want to:
– Efficiently learn how to run an apparel business, from idea to market launch, and beyond.
– Tap into industry experience avoid costly mistakes.
– Make your apparel brand get noticed and align your business with your highest values.
Step-by-step in all parts, from business setup, building partner relationships, product development, to marketing, branding, and how to sell online.
In this book, you will learn the full process, get extensive content that will make you take full ownership and grip of all business areas involved in a brand.
In 21 chapter, Apparel Entrepreneurship, helps you fast-track your apparel business in a cost-efficient way:
Business Start-Up
Entrepreneurship, Administration, Idea & Customer Need, Market Scan, Business Plan, Branding, Money, Team
Product Development
Define Your Collection, The Design, Sourcing, Pattern & Prototype, Pricing, Production, Sustainability
Marketing & Sales
Sales, Order, Shipping, Marketing, Customer Service, After The Launch

"I am absolutely loving your book! Your writing style is upbeat and personable, while at the same time high-quality and professional. The book is a real treasure trove of information for would-be apparel entrepreneurs; it is highly informative and so clearly explained – very reader-friendly."
-Sarah F.
"Thank you for writing this book. I've been struggling with my clothing brand for a long time. After reading your book, I accomplished things in only one month I didn't think was possible. I have saved so much time… and money. Now it feels as if I have a private mentor sitting right next to me, telling me exactly what to do. I highly recommend this book to everyone running a clothing brand."
-Jessie A. Entrepreneurship
As an entrepreneur, no one will be there to make sure you put in the work and stick to your deadlines. Focus on your dream, your vision, and mission of the brand. Don't let anyone or anything get in your way. Administration
Business name, domain name, trademark, bank account, bookkeeping, etc. There are a few things to set up when you launch your business, and you need to stay on top of the administration. Idea & Customer Need
That exciting idea usually starts with: Why doesn't this exist? I wish I had this type of garment. I need to have … Try to solve common problems and figure out the customer need. Without a need, no one will buy your product. Market Scan
The products you're thinking about are styles you would wish to wear, but will someone else want your stuff too? Is there a need for you clothing? Is there a gap in the market? Business Plan
Before even starting you brand you need to know where you are going and what your plan is. The process is as important as the outcome because once you're done, it will be obvious what your strengths and weaknesses are. Branding
Branding is the process of building a product image based on associations, feelings, lifestyle, and identity that is projected by a label. Money
Selling your line will make a profit that you can use to continue working on the next collection. But you will most certainly come to a point where the sales revenue isn't enough to finance the growth of your company. You will need to look at ways of financing your business and cover the costs until you make enough revenue to pay it back. Team
There are many roles that need to be filled in your business. As a small apparel brand you can and probably will take on several of them. But ask yourself which roles you actually can fill and which ones you need to outsource. Define The Collection
What do you want your brand and your products to stand for? What is your point of view, your identity, and how does that differentiate from the other designers? When you have that clear, make sure you implement it in every design you do. The Design
The styles should fit in with the vision and identity of your brand. You will have to give the customer the connection between the brand image and the product. They need to correspond. Sourcing
How do you find material and manufacturers? The material need to tell the same story as the concept and the design. They go hand in hand. Pattern & Prototype
It doesn't matter how great your design is if the pattern is horribly cut. One thing is to have design lines drawn on a piece of paper, and another is to actually be able to pattern the style. You will have to make a number of prototypes for each style before you can start production. Pricing
How do you price your products? How much does it cost to make a garment? We take a look at different strategies and examples. Production
At the end of your product development cycle it is finally time to sew and make all the garments in larger quantities. Sales
Selling goes hand in hand with marketing,
and it should be integrated in everything you do. We take a look at the most common ways of selling your product. Order
Receive sales order and place production orders. When are the yearly sales periods?
Shipping
First you need to transport the garments from the manufacturer to e.g. your office or warehouse and then to your customers. Marketing
Marketing should be embedded in the whole company, in everybody that works there, and in everything you do. Everything a company does is marketing. Customer Care
Pay attention to your customers before, during, and after they purchase from you. Your customers are the best influencers.
Who Is The Apparel Entrepreneurship For?
Why The Apparel Entrepreneurship Book?
You will tap in on 15+ years of experience, knowledge, and passion in the apparel industry. We have built the free life we have dreamt of for years, and we know the feeling of being in full control of your time and your business.
The Apparel Entrepreneurship Book will help you achieve your dreams, live the life you want and spend it doing what you love, just like we do.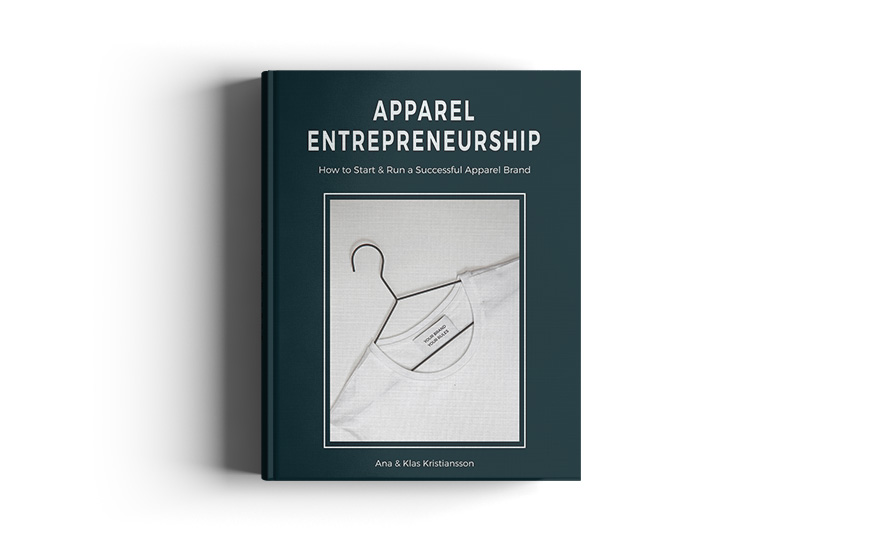 The Apparel Entrepreneurship E-Book
An inspirational and educational book,
that will guide you in the achievement of
 starting and running your apparel brand.
Language: English