VIP DAY INTENSIVE
Fast Track Your Business
When was the last time you had an entire day to yourself, focusing entirely on your business, with industry experts?
A VIP Day Intensive is a one-on-one (you or a small team), extremely customized, full immersion into your brand, business, and products.
Take a day from normal daily routine, eliminate distraction, focus intensively, identify the exact actions you need to take to move forward, get priceless advice, grow your business to the next level of income, profits, and entrepreneurial lifestyle.
VIP Day Intensive Is For Clients Who Want Fast Results
✔ Get out of the daily norm for releasing and unleashing possibilities from creating fresh perspectives, new ideas, mindset switch, confidence & clarity.
✔ Receive solutions for your deepest needs.
✔ Receive much information at one time that you will be able to use long after the day.
✔ Get things done fast.
✔ It gets you results a lot faster.
You will know what to do, how to do it, and why. All you need to do afterward is implement.
We are better together. You don't have to do business alone.
The VIP Day will be customized to your needs. Typically we focus on one or a couple of the following themes.
✔ Design & collection review
✔ Collection Structure
✔ Find the right materials & manufacturers
✔ Brand distinction
✔ Production planning
✔ Identify target customer
✔ Determine market & competitors
✔ Pricing structure & range planning
✔ Costing & profitability
✔ Tech planning
✔ Sustainability implementation
✔ Marketing & sales strategy
What can we work on during a VIP Day Intensive?

Entrepreneurship
As an entrepreneur, no one will be there to make sure you put in the work and stick to your deadlines. Focus on your dream, your vision, and mission of the brand. Don't let anyone or anything get in your way.

Administration
Business name, domain name, trademark, bank account, bookkeeping, etc. There are a few things to set up when you launch your business, and you need to stay on top of the administration.

Idea & Customer Need
That exciting idea usually starts with: Why doesn't this exist? I wish I had this type of garment. I need to have … We will solve common problems and figure out the customer need. Without a need, no one will buy your product.

Market Scan
The products you're thinking about are styles you would wish to wear, but will someone else want your stuff too? Is there a need for you clothing? Is there a gap in the market? We will determine the market gap & need.

Business Plan
Before even starting you brand you need to know where you are going and what your plan is. The process is as important as the outcome because once you're done, it will be obvious what your strengths and weaknesses are.

Branding
Branding is the process of building a product image based on associations, feelings, lifestyle, and identity that is projected by a label. We can together work on your branding package.

Money
Selling your line will make a profit that you can use to continue working on the next collection. But you will most certainly come to a point where the sales revenue isn't enough to finance the growth of your company. You will need to look at ways of financing your business and cover the costs until you make enough revenue to pay it back.

Team
There are many roles that need to be filled in your business. As a small apparel brand you can and probably will take on several of them. But ask yourself which roles you actually can fill and which ones you need to outsource. We can assess your team needs.

Define The Collection
What do you want your brand and your products to stand for? What is your point of view, your identity, and how does that differentiate from the other designers? When you have that clear, make sure you implement it in every design you do.

The Design
The styles should fit in with the vision and identity of your brand. You will have to give the customer the connection between the brand image and the product. They need to correspond.

Sourcing
How do you find material and manufacturers? The material need to tell the same story as the concept and the design. They go hand in hand. We have a database with over 600 suppliers & manufacturers to choose from.

Pattern & Prototype
It doesn't matter how great your design is if the pattern is horribly cut. One thing is to have design lines drawn on a piece of paper, and another is to actually be able to pattern the style. You will have to make a number of prototypes for each style before you can start production.

Pricing
How do you price your products? How much does it cost to make a garment? We take a look at different strategies and examples.

Production
At the end of your product development cycle it is finally time to sew and make all the garments in larger quantities. We will help you with production planning.

Sales
Selling goes hand in hand with marketing. We take a look at the most common ways of selling your product, and help make a plan.

Order
Receive sales order and place production orders. When are the yearly sales periods? We will make a plan together.

Shipping
First you need to transport the garments from the manufacturer to e.g. your office or warehouse and then to your customers.

Marketing
Marketing should be embedded in the whole company, in everybody that works there, and in everything you do. We will make a marketing strategy based on your story.

Customer Care
Pay attention to your customers before, during, and after they purchase from you. Your customers are the best influencers. We will define your service set-up.
Full Day VIP Intensive
Pre consulting call
Customized workbook for your brand
A full day (7h) in-person or virtual
Lunch & snacks
Post consulting call
Your investment: $ 3,997
Location
Standard
Studio in Gustavsbergs Hamn, Stockholm, Sweden.
Special locations
Sign up for the newsletter to hear about upcoming opportunities close to you.
Virtual
We can arrange virtual VIP days. However, we recommend meeting in person, since it's easier to hands-on discuss design, garments, construction, and solutions.
Your preferred location
Contact us for more information regarding this option.
You will be responsible for travel, lodging, and food outside of the VIP Day session. (Lunch & snacks will be provided during the VIP Day Intensive.)
Ana is a former national athlete with education from cutting and tailoring school, art school, and Parsons School of Design in Paris and New York. She has over 15 years of experience from working in the apparel industry. She has designed and product developed award-winning technical products for international brands like Haglöfs, Salomon, Peak Performance, Helly Hansen, Lundhags and many more. She has also launched and run two own brands.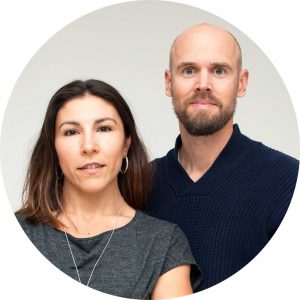 Klas is an IT engineer with a Master of Science degree from The Royal Institute of Technology in Stockholm and ENST in Paris. With over 15 years experience in project management, business development, tech, e-commerce, and running start-ups in an international environment. His background includes working as senior project manager for Europe's largest workwear company, as well as starting up two clothing brands.
"Starting my own brand seemed like a too big of a project for me to embark on. I didn't know where to start, what questions to ask or where to turn.
Ana and Klas from Apparel Entrepreneurship helped me with everything!
Their combined knowledge and experience is impressive.  Even before our first session, they got me ready, focused and organized so our first meeting would be as effective as possible. That set the tone for what was to come, they gave me guidance of where to start, from branding, marketing, hangtags, to neck and size labels, to patterns, fabric, and manufacturer hunting.
They walked with me every step of the way and having them as a guide made the journey feel safer and they do push things forward. You're never standing still and if I ever had any questions – they're super quick to answer.
The best part was that they are so passionate and invested in the work that they do. They genuinely care and they want you to succeed."
– Emine Guler, CEO & Founder of HoldBreaker Ltd
A Final Word
A VIP Day Intensive is suitable whether you are about to start your brand, already launched and need to grow, or you are an established brand and want to take it to the next level.